MoveOn's Electoral Work

A Short History
About MoveOn.org Civic Action
About MoveOn.org Political Action
MoveOn's Electoral Work
MoveOn's Gift Acceptance Policy
Careers with MoveOn
---
Highlights of MoveOn's Electoral Work
2004
"Bush in 30 Seconds" ad contest

MoveOn held a groundbreaking ad contest called "Bush in 30 Seconds," where over one thousand MoveOn members submitted their own anti-Bush ads, which were judged by a celebrity panel.   The winning ad was scheduled to be aired during the Super Bowl halftime.  After CBS refused to air it, it was shown on CNN.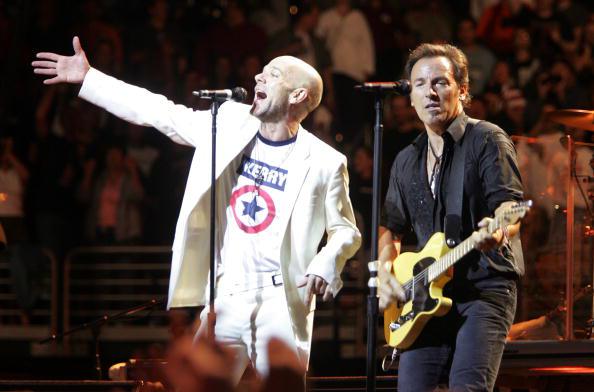 Kathleen Hall Jamieson, a foremost political communications expert, called it "the ad that has achieved the most air time with the least dollars expended of any ad in the history of the republic."
Major concert series
MoveOn also organized the "Vote for Change" concert series in 2004 featuring Bruce Springsteen, Pearl Jam, and other major performing artists, registering and turning out thousands of voters.
2006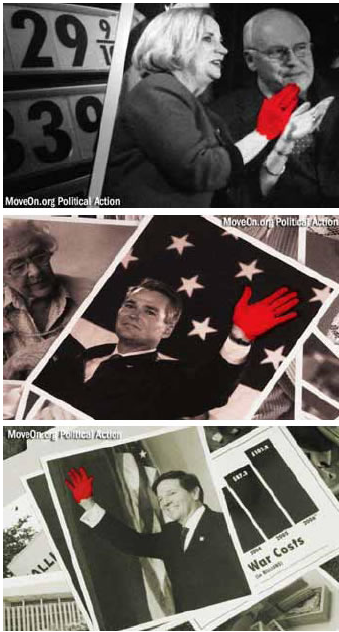 Unprecedented voter mobilization
MoveOn member volunteers made 7 million phone calls, organized 7,500 house parties, and launched 6,000 in-district events. MoveOn developed a cutting- edge online tool for members to make calls from home and organized a weekly series of phone parties, where members gathered together to make calls on their cell phones.
"Caught Red Handed" campaign: ads and bird-dogging
MoveOn also ran a nationally recognized "Caught Red Handed" campaign to put the House in play by focusing the debate on the Republican representatives' allegiance to special interests over their own constituents.   In addition, armed with giant red hands and signs, MoveOn members "bird-dogged" their representatives, following them to town hall meetings, appearances and fundraisers and calling them out picking corporate special interests over voters.
2008
Endorsement of Barack Obama
MoveOn came out big, endorsing Barack Obama before Super Tuesday in an unprecedented primary endorsement member vote.
One of the most popular online political videos in history
MoveOn took advantage of innovative tech tools to develop a customized, viral "CNNBC" video, which allowed people to show their friends what it would look like if they single-handedly cost the election, and was viewed over 20 million times by Election Day.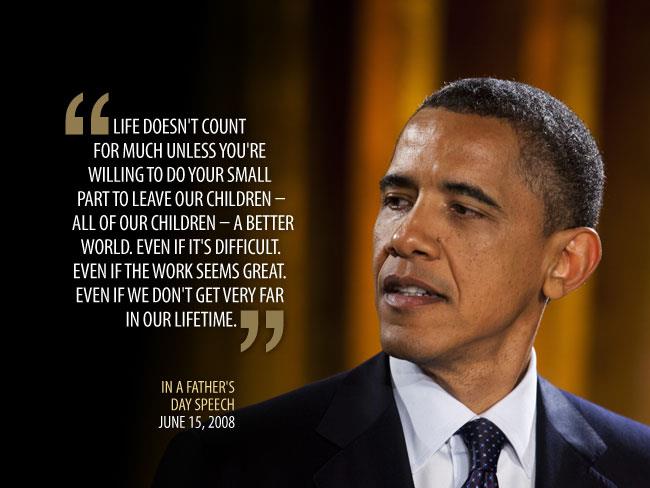 Major GOTV and recruitment efforts backing Obama
MoveOn members made 557,000 recruitment calls from home using our easy-to-use web tool and made 2.14 million calls at "phone parties" where members gathered, cell phones in hand, to call fellow members in battleground states like Ohio and Virginia.
MoveOn also recruited a quarter of a million volunteers across all 50 states for the Obama presidential campaign and engaged nearly a million MoveOn members for Obama.
Half a million people played MoveOn's "Bush-McCain Challenge" quiz online, which showed how McCain would continue Bush's legacy.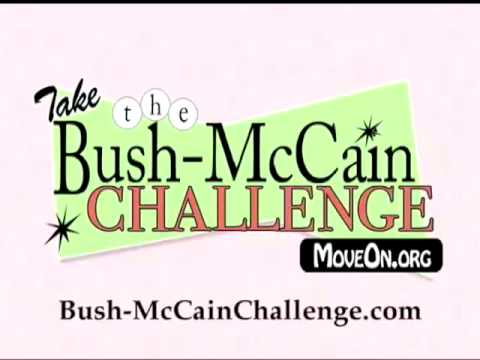 MoveOn also revived the concept behind the "Bush in 30 seconds" ad content and hundreds of members submitted "Obama in 30 seconds" ads.
2010
RepubliCorp campaign, with bird-dogging, releases, and celebrity video
MoveOn led a multi-prong effort to brand the GOP as beholden to corporate special interests, dubbing the Republican party RepubliCorp, bird-dogging 100 events with Republican candidates, and releasing fifty "Stop the Takeover" reports to highlight electoral spending in specific states and districts by corporate front groups.  MoveOn also partnered with actress Olivia Wilde on a video which drew on the Facebook personalization technology MoveOn innovated with the CNNBC video in 2008.
2012
Innovative social pressure tool and voter contacts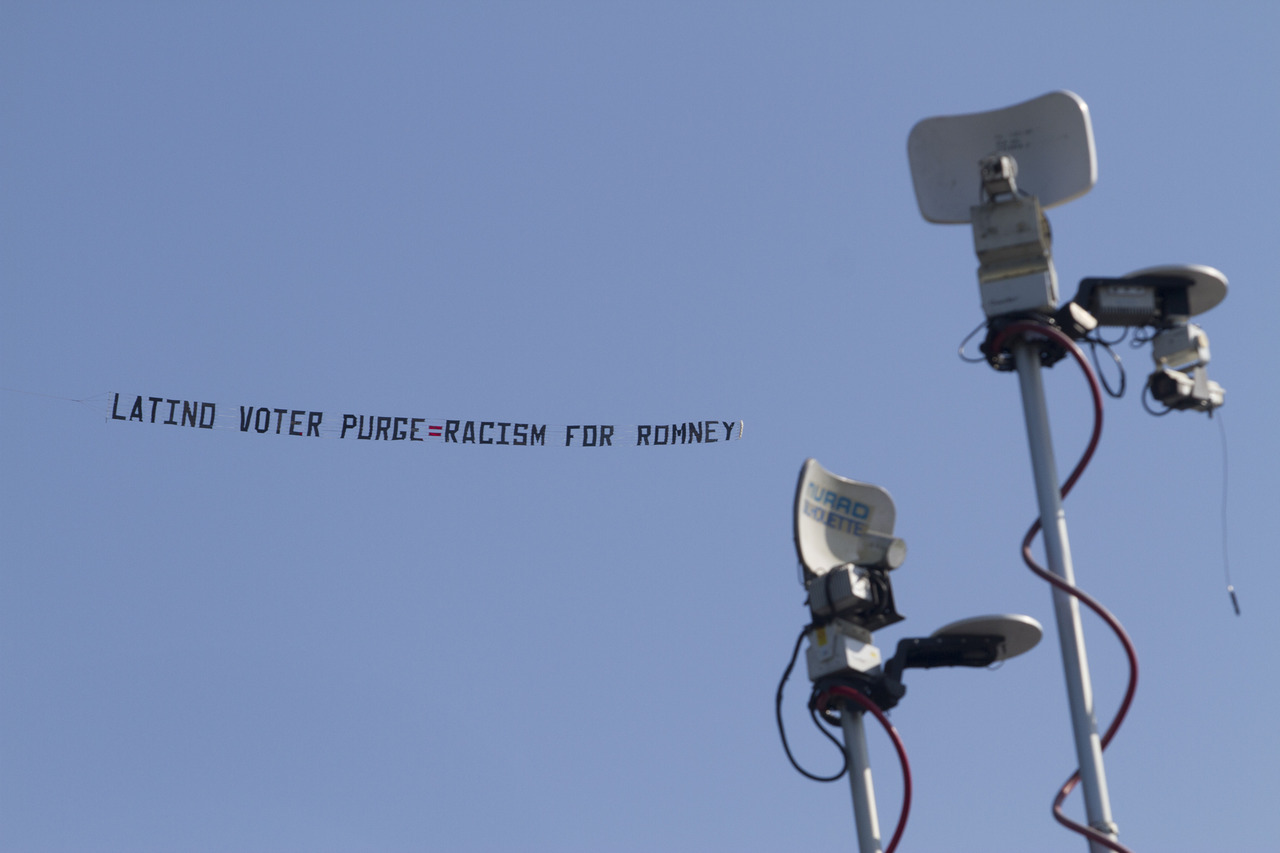 MoveOn released a powerful new tool, called the Vote Score project, reaching 12 million potential voters using a social pressure mailing to boost turnout and pairing it with a provocative online ad campaign.  MoveOn also led on a crowd-sourced progressive ballot guide, going further down the ballot than ever before to elect progressive champions at the local, state, and federal level.
MoveOn members also made more than 1.5 million phone calls to those in swing states and drove creative, rapid-response campaigning to paint Romney as an out-of-touch corporate One Percenter, including pioneering a new program—99Airlines—where members submitted and voted on ideas for airplane banner slogans and chipped in to fly 31 banners over Romney events.
MoveOn also produced an ad with Kerry Washington, Eva Longoria, Scarlett Johansson highlighting Romney's extreme stance on women's issues.
Curating progressive content
During this election cycle, MoveOn's ShareMachine team scoured the web for shareable progressive content, generating 500 million views of progressive media, including 100,000 views of a MoveOn-produced video telling the story of the GOP's effort to buy and steal the election.
2014
"Supervoter" campaign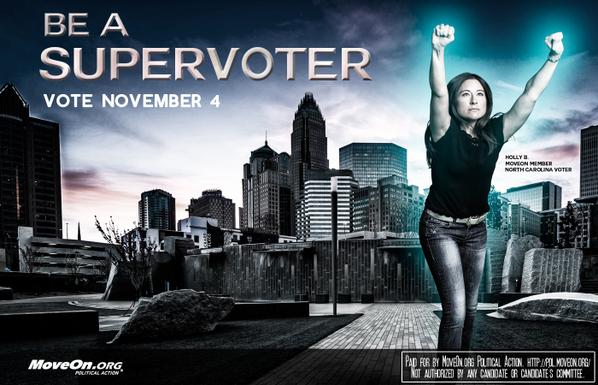 During the 2014 Election MoveOn launched the Supervoter ad campaign as part of a major effort by MoveOn members across the country to turn out women voters.
MoveOn members were featured in ads which ran in The Denver Post, The Des Moines Register, and The Charlotte Observer.
Millions of phone calls
MoveOn members volunteered and made over 6.76 million phone calls to turn out progressive voters in key states with hotly contested Senate races.
Fought back against the Koch brother's attempts to suppress the vote
When the Koch brothers-backed group Americans for Prosperity mailed false voter registration information to hundreds of thousands of North Carolinians, MoveOn members fought back, chipping in to correct the misinformation by running ads and contacting voters.
We run a full-page ad correcting the misinformation that ran in North Carolina's four largest newspapers. The newspaper ads featured Riziki Omonde, a 20-year-old college student at Appalachian State University, who has advocated to protect voting rights for students.
In addition, MoveOn ran a radio ad on the music-streaming site Pandora.
2016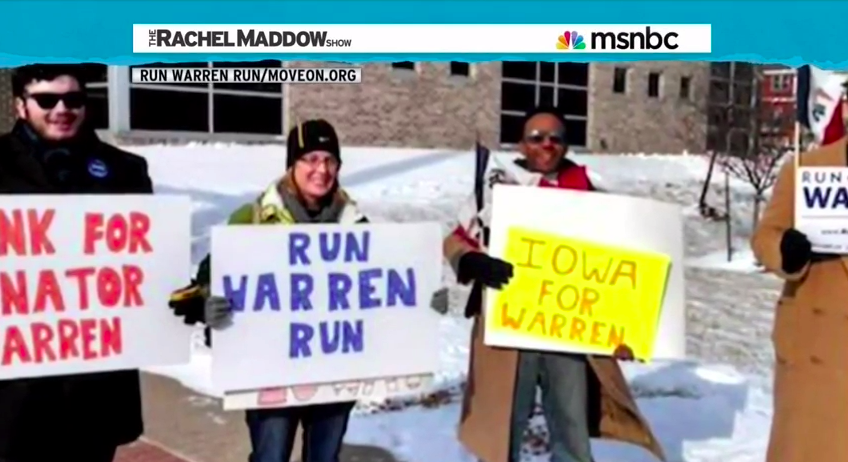 Run Warren Run
MoveOn Political Action is in the midst of running an unprecedented campaign to draft Senator Elizabeth Warren into the presidential race. Click here to find out more about the effort.
Getting out the vote.
We had more than 175 on-the-ground field organizers organizing in eight of the most important swing states for the presidential and Senate election. In the first three weeks, our organizers recruited and trained 1,500 MoveOn volunteers who knocked on more than 40,000 doors and had more than 11,000 face-to-face conversations with targeted voters who made the difference in the most critical races.
Video outreach.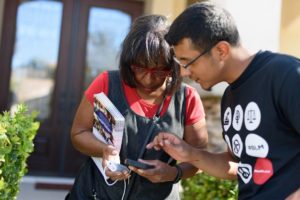 We also launched our Video Lab, an in-house video production team, which has the capacity to turn around powerful, hard-hitting videos in 24-48 hours. From June to October 2016, our Video Lab produced 137 videos and reached 64.3 million views. These videos spread progressive ideas, including a video by Senator Elizabeth Warren on Donald Trump's tax returns and videos contrasting Hillary Clinton and Donald Trump on key issues. This is people-powered progressive media, reaching an audience of young people and others who may not be tuning in to more traditional sources.
Text Team.
Using the latest technology, we built a massive texting program to help recruit volunteers for our tremendous GOTV effort. In 2016, we had 2,000 texting volunteers and scaling up to add even more in the final days leading to the election. The response rates from the texting program are astounding: 40% of our volunteers in swing states come from text message recruitment.
Laughter Trumps Hate.
We went beyond business-as-usual political tools to take on Trump using culture, comedy, art, and laughter. MoveOn had three standing-room-only comedy showcases in LA, Chicago, and New York, using humor to pierce through Trump's media hype and reach younger and less political audiences.
2018
We helped power the blue wave, ending Republican control of the House.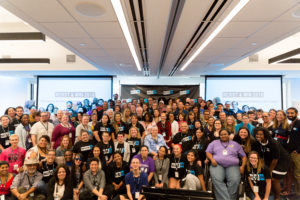 In 2018, MoveOn members led more than 1,000 "Wave" events to turn out voters. Volunteers sent 35 million peer-to-peer text messages to potential voters. And MoveOn members raised $4.5 million for candidates in dozens of key House and Senate races, including $250,000 for candidates in contested primaries, helping ensure our next leaders would have bold, progressive values. In total, 52 MoveOn-endorsed candidates were elected to Congress, 34 of whom flipped their districts from red to blue (out of 40 total seats that flipped the House).
We endorsed over 100 down-ballot candidate races around the country.
Of the state and local candidates we endorsed, 72% were people of color, 64% identified as women, 15% identified as LGBTQ, and 8% were Muslim-American. This diverse group of candidates will have a massive impact in local communities for years to come, making sure school boards, city councils, and state legislatures move in a more progressive direction.
We innovated in how we campaign.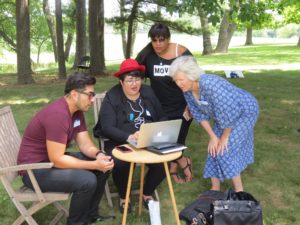 In 2018, MoveOn launched a first-of-its-kind "Real Voter Voices" program, where we collected 2,500 selfie-style videos of people from across the country sharing their reasons for voting. After a unique testing program, we launched more than 260 paid video ad campaigns in 90 House districts, 10 Senate races, and 10 gubernatorial races, including Spanish-language ads in Texas. This program reached over 20 million voters in key races—and we project that the effort moved hundreds of thousands of votes for Democrats.
2020

In 2020, MoveOn Members:

Raised more than $7 million in small-dollar donations, with nearly $4 million of that directed to critical down-ballot Senate and House races;
Sent 155 million text messages to voters across the country and made 188,000 calls to voters in targeted states;
Organized 986,306 volunteers for a relational voter program who engaged with more than 3 million battleground state voters they personally knew; and
Aired over $5 million in targeted ad campaigns. 
2022

America for All: Together, We Defeated MAGA Again
In the face of extreme gerrymandering, disinformation, and voter suppression, MoveOn members helped in turning out voters in huge numbers. We held the Senate for Democrats, elected pro-democracy champions for governor and secretary of state in critical states, and demonstrated that people-first policies are a winning strategy for Democrats.

We turned out surge voters.
We helped 80,000 MoveOn members triple their vote, resulting in 240,000 surge voters who might not have voted otherwise to turn out to vote in key battleground states through tactics including polling place vote tripling, peer-to-peer texting, and phonebanking. We then amplified this people-powered strategy by running culturally relevant campaigns designed to meet voters where they are through our Nail the Vote campaign with over 40 celebrities, micro-influencers, and nail artists participating in the Nail the Vote digital campaign, including Alicia Keys, Natasha Rothwell, and Jaime King.
MoveOn members endorsed 85 candidates for House, Senate, governor, and secretary of state seats across the country, contributing $1.53 million+ to those campaigns. MoveOn then partnered with NextGen and Working Families Party for Our Future Is Now, a nine-stop rally tour in the critical battleground states to galvanize tens of thousands of voters to the polls this year with Senator Bernie Sanders and influential celebrities joining us along the way to remind the nearly 82,000 voters in attendance of their enormous power during elections and to encourage them to triple their vote.
We rose up to protect our rights, freedoms, & democracy.
MoveOn defended abortion rights following the Supreme Court's reversal of Roe v. Wade by getting voters to turn out to protect the right to abortion care for all and channeled public outrage into electoral action, garnering 350,000 pledges to Overturn the GOP, instead of Roe. We also brought together hundreds of thousands of people who demanded accountability for MAGA Republicans who planned or played key roles in the criminal conspiracy to sabotage the 2020 election.
Learn more about what MoveOn and our members did in this historic midterm election at 2022 Election Accomplishments.