Get Involved
In 2017, we resisted. In 2018, we win ... if we organize.
Take Action to 
Resist & Win.

We can transform our government and end GOP control of the House. We can give ourselves a shot at winning Medicare for All, ending the separation of families, and unrigging the system so that all people—white, Black, brown, and everyone—can thrive.

But only if we organize! That's why MoveOn members and allies are coming together to talk with voters, to listen, and to have the conversations that mean the difference between winning or losing a close election. There are many ways to get involved and join in on this work—choose one, two or all actions below to help Resist & Win!
Join other volunteers at MoveOn Wave events!!
Make a difference at a voter contact shift at the local campaign offices of candidates for the U.S. House and help to end GOP control of Congress!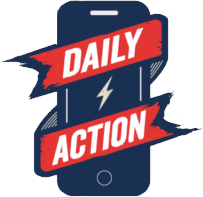 #50DAYS TO WIN SPRINT TO ELECTION DAY
Text WIN to 228466 to join the Blue Wave & win the House.
Winning Everywhere: National, State, and Local Races
Sunday, November 4th

7:30pm ET/4:30pm PT
Joining MoveOn's National Call from Home Team will connect you to volunteers across the nation, and many times more voters than you can reach by manual dialing in small groups.
With your help, we will reach tens of thousands of voters in the most vital, flippable districts in the country. Each of these MoveOn endorsed candidates is within just a few points of their Republican opponent, and we know that talking to enough voters in these districts can win a campaign.
MoveOn members are using Outvote to have a conversation with their friends about this upcoming election. Look out your contact list and see which of your friends that live in our endorsed districts are Democrats and which are Republicans. Then help get out the vote for the MoveOn-endorsed candidate.