Meet Two Guys Defending Marriage Equality in a Super-Red State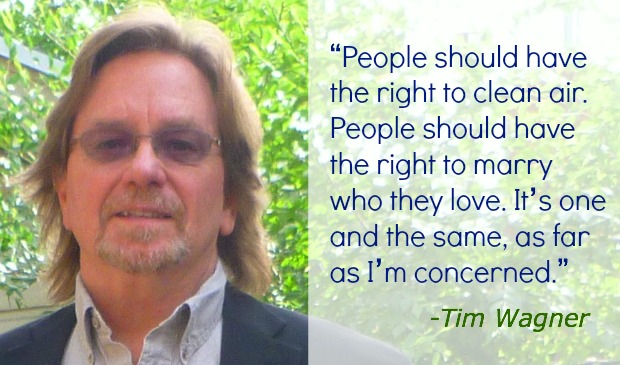 Utah banned same-sex marriage in 2004. But three same-sex couples recently filed a suit against the ban, and five days before Christmas, Judge Robert J. Shelby made a landmark ruling that the ban was unconstitutional. The 43-year-old Utah resident and federal judge held in his ruling that the Constitution protected "their fundamental right to marry." Yay! Right?
Not so fast. Utah Governor Gary Herbert — usually a slow, careful decision-maker — jumped on the issue in hours, criticizing Judge Shelby's ruling and later even ordering all state agencies not to honor the 1,300-some same-sex marriages that occurred after December 20.
But two Utah MoveOn members are defending Judge Shelby's decision. Tim Wagner, a straight, married Sierra Club activist, and Matt Jacobson, a young, recently married gay man, both started petitions to support marriage equality in Utah and quickly collected tens of thousands of signatures. (And they're making progress — this Friday, the Obama administration said it will recognize Utah's same-sex marriages!) Wagner and Jacobson graciously talked to MoveOn about their campaigns before delivering the 56,000 signatures at a big rally on Friday, January 10– where nearly 2,000 people showed up to support marriage equality.
After sharing his petition (which asks Gov. Herbert to let Judge Shelby's ruling stand) on Facebook, Tim Wagner only expected about 500 signatures. Now it has a staggering 46,530 and his campaign has attracted substantial media attention. "What's remarkable is that if you look through who signed it, roughly 75 percent of those are from Utah, the reddest of red states," Wagner says. "So it clearly shows that this governor is way out of touch with what most Utahns really want."
Although Wagner isn't gay, he was incensed to see "all these crazy claims that somehow allowing two people of the same gender to marry into a loving relationship threatens my marriage. No one has demonstrated any evidence to show that that is remotely true," he says. "Love and equality just cross all lines. And to try to restrict that is not only a violation of our constitutional rights, but just also a violation of plain old human decency."
Wagner likens supporting same-sex marriage to his day job with the Sierra Club, where he holds corporations responsible for the pollution they produce. "People should have the right to clean air. People should have the right to marry who they love. It's kind of one and the same, as far as I'm concerned," he says. "We do not have to stand by and let this happen. We can stand up and we can push back and we can correct this, and that's exactly what I hope we do here."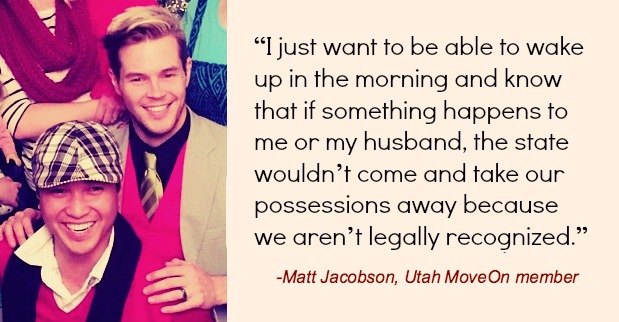 After signing Tim Wagner's petition, Matt Jacobson started his own upon hearing Utah planned to pour $2 million into fighting Judge Shelby's ruling. He shared his petition on Facebook, as well as on his blog, and it's garnered nearly 13,000 signatures. The petition asks the state to do something good with those taxpayer dollars, rather than trying to prevent some people from being happy.
"Everywhere I go, I can see things that benefit from $2 million," Jacobson says. "In Utah, we spend the least per student on education out of every single state. And on top of that, we have the worst air quality in the nation. There's a lot that $2 million could do."
Judging by the response to his petition, Utahns agree — even many members of the Church of Latter-Day Saints, which is politically influential in the state and doesn't condone gay marriage. "I've been reading all the comments on the petition, and there are actually a lot of people who say they're LDS. And I have a lot of friends and family who are LDS who just want everyone to be happy," Jacobson says.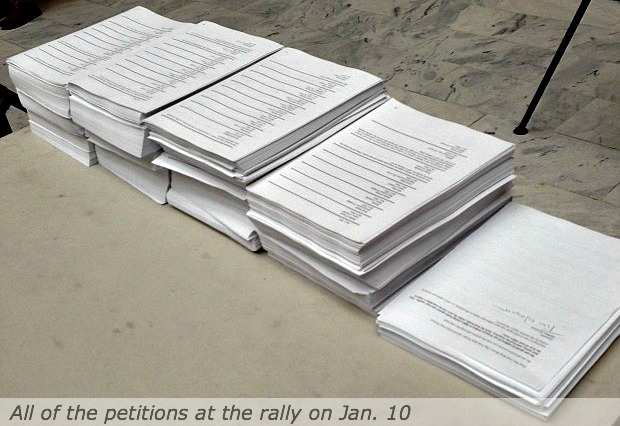 Jacobson is gay, so Judge Shelby's decision hits close to home. "I just want to be able to wake up in the morning and know that if something happens to me or my husband, the state wouldn't come and take our possessions away because we aren't legally recognized," he says. "Or if someday we want to have children, they can be our children and not just belong to one of us. These are things people take for granted."
Jacobson says he and his husband went to California to get married in August 2013, never dreaming their marriage might soon be legally recognized in their home state. "We were actually thinking about moving so that we could be recognized and have the same dignity as everyone else," Jacobson says. "That's a sad thing for us — we love our state, and all of our friends and family live here, so in order to be equal in the eyes of the law, we would have to leave our friends and family behind." Hopefully Judge Shelby's ruling will stand, and Jacobson and his husband won't have to move.