Iranian MoveOn Member Explains Why You Should Speak Up
For the first time in 35 years, U.S. and Iranian leaders might meet this week at the UN General Assembly. Sara Haghdoosti is fighting to make that happen. As part of Berim (Farsi for "Let's go"), the organization she founded to create a free Iran, the Iranian-born woman started a MoveOn petition urging President Obama to meet with Iran's new president, Hassan Rouhani. "I was really scared that no one would sign it," she says — but more than 46,000 people have! Before delivering the petition, she answered a few of our questions.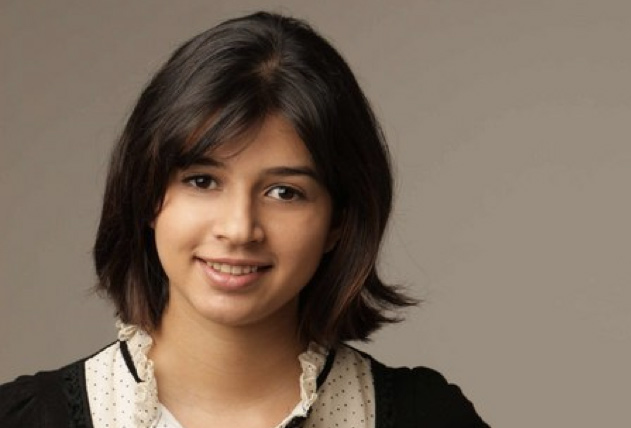 Q. Why are you so passionate about Rouhani meeting with Obama?
A. I was born in Iran, so it's a really important issue to me…I remember reading story after story about how sanctions are devastating people in Iran, and how war with Iran was a matter of when, not if. It made me realize I had to start paying attention to Iran and that there was important work to be done there.
After being raised in Australia, I moved to the U.S. to help start Berim, a new organization to amplify Iranian voices, get people outside of Iran engaged, and change foreign policy. That led me to start the petition on MoveOn, and the rest is history!
Q. What makes the timing so important?
A. Obviously there's a moment: Rouhani is coming to the GA [General Assembly]. He's a moderate president, which is really exciting…If Iran's ignored, it's going to make it not only harder for Rouhani to be moderate and even progressive on foreign policy; it's going to be harder for him to do more progressive things domestically in Iran as well.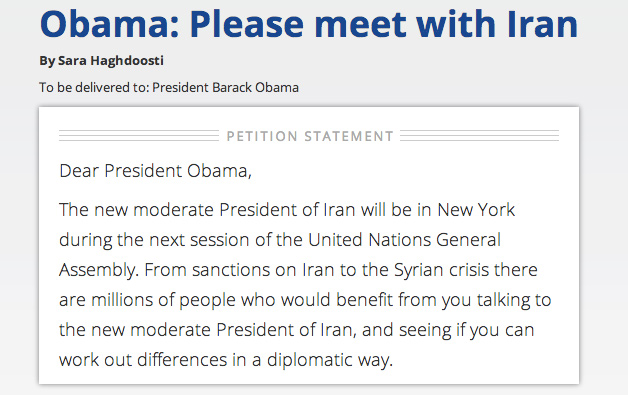 Q. What would be your ideal outcome from the petition?
A. The actual meeting in and of itself is important; just the fact that the countries are engaging is the most important part…After that, pivoting toward talking about how we can reduce the sanctions [in Iran], because the sanctions act like economic cluster bombs. They hurt everyday Iranians and disproportionately impact the most vulnerable people. They're making it harder for people who are trying to make change to be effective.
Q. How is activism in Iran different from in the U.S.?
A. Activism in Iran comes at a higher price. The government oppression is huge. When people think about Iran, they think about the worst aspects of the Iranian government. They don't think about the thousands of people who stand up for freedom and justice every day, who put their lives on the line doing the kind of organizing you and I take for granted.
Q. If you could correct a common American misconception about Iran, what would you say?
A. Iran is a country of 60 million, and three-quarters of those are under 30. So the [majority] of Iran is young people who are just like kids in the U.S.: super tech-savvy and on Facebook or Twitter and who are passionate, engaged, and hungry for change.
Q. One last question: Who inspires you?
A. Lots of amazing women of color. Audre Lorde said something like "If you're silent or speak up, you're going to be scared either way. Therefore it's better to speak up." That quote has definitely kept me going.
This interview has been condensed.