What MoveOn Members Accomplished in 2017
MoveOn members and the broader Resistance Movement powered stunning victories in 2017—legislatively, electorally, and culturally—and momentum is on our side heading into 2018.
Thank you for being part of a movement that took to the streets, hit the phones, and filled social media and TV airwaves—and for all you did with MoveOn throughout 2017.
Watch this video featuring some of my reflections on MoveOn members' work together this past year and what's to come in 2018, then read on for a more detailed reportback:
In 2017:
We helped propel stunning election upsets in Virginia and Alabama.
We stood with communities on the front lines of Trump's attacks — fighting for Dreamers, against Trump's racist and unconstitutional Muslim Ban, and against the white supremacists in the streets of Charlottesville and the halls of the White House.
We contributed millions of dollars directly for hurricane relief efforts for our fellow Americans in Puerto Rico, Florida, and Texas.
We helped force the recusal of Jeff Sessions from the Trump-Russia investigation and have propelled the demands to protect the investigation—and even consider impeachment—into the heart of public discourse.
We helped build and wire an incredible grassroots network to respond if Robert Mueller is fired (over 175,000 people have already committed to join protests if needed), or if Trump tries to rush us into a new war.
We stiffened the spines of elected Democrats, and we showed Republicans the cost they'll pay at the ballot box in 2018 for scamming their constituents to give handouts to billionaire donors and giant corporations.
For all the damage Republicans have inflicted, we've resisted and defeated them just as often. Polls have swung wildly against Republicans in next year's congressional races, Trump's approval ratings are at an all-time low, more and more Republican incumbents are announcing their retirement, members of Trump's Cabinet and inner circle have been forced to resign amid corruption scandals and are facing popular outcries, and more of his closest advisers are coming under scrutiny by an investigation that the Resistance called for and has, thus far, helped protect.
Here are 10 of MoveOn members' biggest accomplishments of the past year:
1. WE DEFENDED THE AFFORDABLE CARE ACT, PROTECTING TENS OF MILLIONS OF AMERICANS' ACCESS TO HEALTH CARE
Republicans promised they would repeal the Affordable Care Act the day after the inauguration, but we showed up to ensure it didn't happen. The Resistance Movement overwhelmed Republican senators' and representatives' town hall meetings, flooded their phone lines, and demonstrated that we'd hold anyone who voted for repeal accountable. MoveOn members alone organized more than 2,800 grassroots health care events, made at least 474,379 phone calls to Congress, held three rallies featuring Sen. Bernie Sanders that generated wall-to-wall local news coverage, and worked hand-in-glove with dozens of partner organizations to defeat Republican repeal efforts. And while the Republican tax scam unfortunately did eliminate one important piece of the law, the vast majority of the ACA remains intact, including the health care exchanges, the ability of parents to extend coverage to their children until the age of 26, protections for those with preexisting conditions, and the Medicaid expansion which has covered more than 15 million people.
2. WE WERE A PILLAR OF A POWERFUL RESISTANCE MOVEMENT
From the moment Trump was elected, MoveOn members vowed to do all we could to resist his white supremacist agenda and proposals to rig our economy and government even more in favor of big corporations and the rich. More than 250,000 of us joined Ready to Resist national organizing calls held by MoveOn and allied organizations, more than 100,000 of us attended local events, and 1,000 of us joined MoveOn's Resistance Summer training program and are now organizing in our communities to lay the groundwork for 2018.
Watch this video to hear from four MoveOn members who equipped themselves to make a more powerful impact by participating in Resistance Summer:
3. WE HELPED LAY THE GROUNDWORK FOR THE MUELLER INVESTIGATION AND PREPARED TO DEFEND IT IN THE EVENT OF TRUMP ADMINISTRATION SABOTAGE
When it became clear that Attorney General Sessions had lied during his testimony about contacts with Russia, we fought for and helped secure his recusal from the investigation into collusion. And when FBI Director James Comey was fired, we took to the streets to demand an independent investigation. Now, more than 175,000 MoveOn members are signed up to attend one of more than 600 pre-organized emergency protests nationwide that will take place if Trump fires Special Counsel Robert Mueller or otherwise interferes with the investigation. (Sign up here if you haven't yet.)
4. WE RESISTED THE MUSLIM BAN AND ISLAMOPHOBIA
After the election, but before President Trump took office, we helped lead a successful effort to dismantle the NSEERS program—a Muslim registry that the incoming administration could have used to target Muslim communities. Then, when Trump announced his Muslim Ban, thousands of us showed up to stand for religious freedom and the Constitution at airports across the country. We've also released a guide for how progressives can speak about the Muslim Ban without inadvertently using Islamophobic language, compiled 370,000 signatures against the Muslim Ban, and produced 22 videos about Islamophobia and the Ban that garnered more than 15 million views.
5. WE STOOD WITH DREAMERS AND AGAINST THE WALL AND MASS DEPORTATION
MoveOn members made tens of thousands of phone calls to Congress and joined actions across the country to demand that Congress act to protect the more than 800,000 Dreamers whose futures were jeopardized when Trump ended the DACA (Deferred Action for Childhood Arrivals) program, and we organized closely with allies at United We Dream and elsewhere to ensure Democrats in Congress would make this a top priority. We've created billboards in Paul Ryan's hometown and joined allies in marching on Chuck Schumer's home to communicate the stakes of this fight to leaders of both parties. The work continues as we fight to include a clean Dream Act in the spending bill Congress must pass to keep the government open past January 19.
6. WE HELPED ENDORSED CANDIDATES WIN AND INNOVATED NEW AVENUES FOR IMPACT IN ELECTIONS
MoveOn members across the country chipped in more than $1.5 million in contributions for endorsed candidates this year and turned out virtually and in person to volunteer to help candidates win. We also innovated new approaches to electoral campaigning that we tested successfully in Virginia and Alabama. We built our own peer-to-peer texting tool, Spoke, that we were able to use to mobilize volunteers for voter turnout. And our in-house analytics team and Video Lab developed a new video persuasion testing technology that has allowed us to deliver video selfies created by MoveOn members to the voters with whom they are most persuasive, leading to thousands more votes in both Alabama and Virginia, and holding huge promise for 2018.
7. OUR VIDEOS WERE SHARED 3.7 MILLION TIMES
MoveOn's Video Lab, which launched in the summer of 2016, has produced powerful, shareable online videos that have now been seen more than 400 million times, including 285 million views in 2017. This year, viewers watched our videos for a total of 135 million minutes—or 257 years—and our video content was shared 3.7 million times. It was a powerful new vehicle for education, as well as for generating action. Calls to action carried through MoveOn videos motivated viewers to make more than 49,000 phone calls to Congress on health care alone. To make sure you see our videos, follow us on Facebook or YouTube.
8. WE STOOD IN SOLIDARITY WITH PEOPLE IN NEED
MoveOn members stood in solidarity with the people of Puerto Rico and Houston in the wake of devastating hurricanes, chipping in a total of more than $3.7 million for direct relief, including more than $3.3 million for aid to Puerto Rico as part of a campaign partnering with Lin-Manuel Miranda—the largest single fundraising drive in MoveOn history. And the hundreds of thousands of dollars we contributed to support victims of Hurricane Harvey in Houston helped ensure that aid would be distributed fairly without regard to race or immigration status.
9. WE BUILT AND DEPLOYED A NEW MOBILE ORGANIZING PLATFORM: SPOKE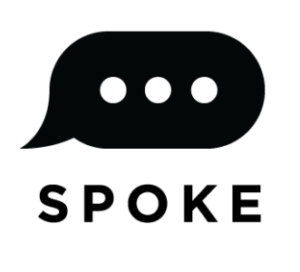 MoveOn's tech team built a new peer-to-peer texting application, Spoke, that empowers MoveOn members to send text messages to each other, as well as to potential voters. In just a few months since Spoke's launch, MoveOn volunteers have already used it to send more than 6 million texts recruiting volunteers, generating phone calls to Congress, and turning out voters.
Because Spoke is an open-source tool, movement organizations from across the world have built features that we've added to the codebase to make for what's perhaps the most robust and cost-effective peer-to-peer text messaging tool available to organizers today.
You can learn more about the tool here: https://opensource.moveon.org/spoke
10. WE SIGNED PETITIONS MORE THAN 16 MILLION TIMES, LEADING TO SIGNIFICANT WINS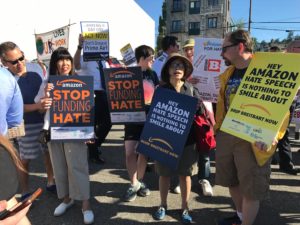 MoveOn members used our petitions platform to generate media coverage and win campaigns for progress in municipal governments, corporate boardrooms, and in national politics. The Democratic National Committee voted against accepting money from the gun lobby after 23,000 people signed a petition by MoveOn member Sandy Phillips, whose daughter was killed in the Aurora theater massacre. Cyntoia Brown, a victim of childhood sex trafficking who is in prison for killing one of her attackers in self-defense, is working on a clemency case after more than 400,000 supporters signed a MoveOn petition which put her case in the international spotlight. And more than 300,000 members fought back against a proposal to cut funding to PBS in Republicans' 2017 budget. We know 2018 won't be any easier, but the MoveOn community continues to start, share, and sign petitions that have an impact. It's a powerful tool as we fight for progress.
---
In what is likely the darkest political moment many of us have experienced, and at a time when Trump, his administration, and Republicans in Congress are doing tremendous harm, Americans of all walks of life—women donning pink hats, Dreamers courageously risking their future, and so many more—helped light the spark of Resistance that has yielded light and hope.
We're ready for 2018. Together, we'll march to the ballot box, resist Trump & the GOP's ongoing attacks, build our movements' strength and capacity, and invest in the leadership of the future through our down-ballot work. That's what this moment calls for. And we know we can do it, because MoveOn members have been showing up very day to resist—and to persist.
Thank you for all you have been doing—thank you for all you are doing—to meet the challenges of this moment and to turn the tide, together.
###
This post refers to both work done by MoveOn Political Action and MoveOn Civic Action; both organizations are shorthanded as "MoveOn" for the purposes of this post.