VICTORY: Defend the Vote Campaign Secures Support for Voting Rights Amendment Act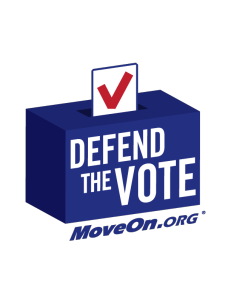 All around the country, voting rights are under attack—but MoveOn members are fighting back with the Defend the Vote campaign.
Last year, the Supreme Court gutted the landmark Voting Rights Act of 1965. Since then, Tea Party governors and Republican legislators across the country have raced to implement new voter suppression laws, like limiting poll hours and shortening voter registration periods. But last month, a new bipartisan bill—the Voting Rights Amendment Act of 2014—was introduced in the House of Representatives to strengthen the Voting Rights Act. This bill is the best vehicle we have for restoring the rights struck down by the Supreme Court last year.
That's why MoveOn members across the country have been campaigning to get their representatives to cosponsor and strengthen the bill. And we're winning! Since we launched the Defend the Vote campaign in nearly 400 districts across the country, fourteen more members of Congress have signed on to co-sponsor the Voting Rights Amendment Act. MoveOn members Charles Shelby, Lilly Spitz, Aaron Mitchell, John Darcy, Catherine Launay, Grace Balch, Freemont Gilbert, Jack Young, Lee Witter, Christopher Beall, and Kimyotta Hankins all started MoveOn Petitions to their members of Congress Rep. Mike Quigley (IL-5), Rep. Doris Matsui (CA-6), Rep. David Scott (GA-13), Rep. Steven Horsford (NV-4), Rep. Janice Schakowsky (IL-9), Rep. Scott Peters (CA-52), Rep. Fred Upton (MI-6),Rep. Dave Reichert (WA-8), Rep. Bill Pascrell (NJ-9), and Rep. Frank LoBiondo (NJ-2) who have now signed on to co-sponsor this important bill.