MoveOn is hiring! Join the 2018 Resist and Win team!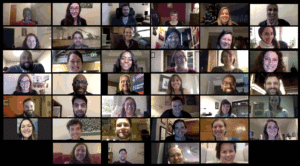 If the recent victories in Alabama, Virginia, and elsewhere have indicated anything, it's that progressives are able to win elections anywhere when we resist and show up at the ballot box. MoveOn members were instrumental in these resistance efforts, and we will continue to build a movement that stands up for vulnerable communities and wins electoral victories in 2018 with our newly launched "Resist and Win" campaign.
We are committing substantial capacity to leverage our innovative, data-driven, and people-powered organizing to identify and support diverse, populist, and progressive candidates at the local, state, and federal levels. We will not forfeit our nation to the Trump-Republican agenda on any front, and we need your help. MoveOn is hiring for our "Resist and Win" elections, tech, and field teams.
All positions at MoveOn are remote, so we are seeking individuals who are self-directed, have excellent communication skills, and are team players who will engage in cross-organizational collaboration. Is this you? While these positions start in the early spring, we are reviewing and interviewing for positions on a rolling basis—so if you are interested, apply today!
2018 Director of Rapid Response Communications
Resist and Win Down-Ballot Regional Director
Resist and Win Election Data Director
Resist and Win Election Digital Director
Resist and Win Federal Endorsements Manager
Resist and Win National Training and Operations Organizer
Resist and Win Regional Organizing Manager