You'd Never See an NFL Team Named "The Blackfaces" -- So Why Is This OK?
"We do not deserve to be called 'redskins.' We deserve to be treated as what we are: Americans."
– Oneida Indian Nation Representative and CEO Ray Halbritter
"We'll never change the name. It's that simple. NEVER — you can use caps."
– Washington Redskins owner Dan Snyder
The debate surrounding Washington's NFL team name isn't new, but it's bubbled up into the national consciousness with renewed vigor this fall. Last month, President Obama said he'd "think about changing" the name if he were the team's owner. And major news outlets like Slate, Mother Jones, and The New Republic now refuse to call the team "The Redskins," opting instead for "the Washington NFL team."
And yet, as of this June, 80% of D.C.-area sports fans thought the name should stay the same (even though, paradoxically, most of them consider it inappropriate). For diehard or nostalgic fans, it's a messy issue.
Lifelong D.C. resident, Washington NFL fan, and MoveOn member Henok Tekle understands this — but he still thought it was important to start a petition pushing for the team to be renamed.
"The name itself has always struck me as very derogatory and insensitive," Tekle told MoveOn. "To have the football team of the nation's capital have this name, I just think it's completely inappropriate."
He continues, "As a person of color, I would equate [The Redskins] with using an image of a minstrel character and calling the team 'The Blackfaces.'" He's not alone. Bob Costas of NBC and Deadspin have also pointed out that a team name with a different racial slur would never be acceptable — so why is this one?
Tekle mentions that D.C.'s basketball team, The Wizards, used to be called The Bullets until the late 1990s. "People in the city felt it was time for the symbolism of the team name to change, and they let the fans call in and vote on a different name," he says. "If violence was a justification for changing a team name, I think history or racial sensitivity is more than justifiable."
Tekle knows many longtime Washington NFL fans are really connected to the name, and he's gotten emails in response to his petition from fans who respectfully disagree with him. "It cuts very deep for some people, and I'm mindful of that," he says. "But ultimately when you're looking at the bigger picture and thinking outside of yourself, this is just unacceptable."
Particularly when you look back at this history of the term "redskins." As Oneida Indian Nation Representative Ray Halbritter told CNN, "It was the name…that was used against our people when we were forced off our lands at gunpoint. So, it has a sordid history. And it's time for a change."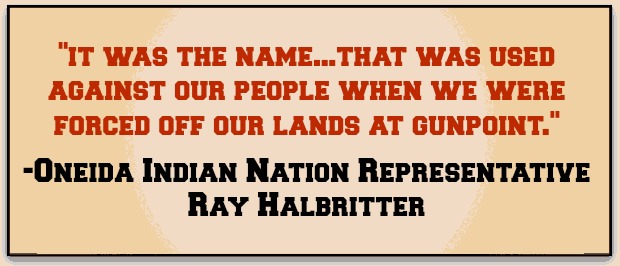 It certainly is. "Since 1971, nearly two-thirds of professional and amateur athletic teams bearing Native American iconography have made a change," writes The New Yorker (via NPR). Hopefully the Washington NFL team will soon join that group.
When asked for any parting words, Tekle says, "I'd encourage anyone to take some time to really look into the issue and not just immediately give a knee-jerk response to a headline or a media story. Really look behind what's going on and learn about people who aren't necessarily in your group and that you may not know personally," he says. "See how this might affect them and really put yourself in the other person's shoes."
Thanks for your time and activism, Henok! Sign his petition here.