Activists greet President Obama in Silicon Valley urging action to save the Internet
"Barack Obama, yes you can,
Stop Tom Wheeler's stupid plan!"
More than 100 activists with netroots groups MoveOn.org, Free Press, CREDO, Color of Change, Demand Progress, and others gathered Wednesday morning outside President Obama's visit to a wealthy neighborhood of Silicon Valley, the epicenter of the tech industry, with that chant—catching the attention of the President's entourage, local and national media, and hundreds of morning commuters en route to their tech jobs. (Full list of press hits below).
At issue? President Obama is sitting on the sidelines while the FCC chair that he appointed moves ahead with a plan that would kill the Internet as a level playing field for all. He has a choice—allow the FCC to do the bidding of Verizon and Comcast and oversee the death of the open Internet, or use his political megaphone to call for the real solution: treating the Internet as a public utility.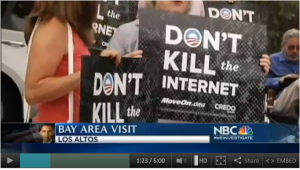 A coalition of young people, people of color, and women—who used the open Internet in new and innovative ways to organize people to engage in politics–propelled President Obama to office in 2008 and 2012. Since his first campaign, President Obama has promised to preserve the open Internet that helped him get elected and that every American relies on to access information, start a new business, and compete on a level playing field–but he has yet to address the issue this summer or push for the FCC to preserve true "Net Neutrality" by treating broadband Internet as a public utility.
"Without a free and open internet, we couldn't have created Color of Change," James Rucker–founder of the online group that formed in the wake of Hurricane Katrina to strengthen the political voice of Black America—told the assembled crowd.
Corynne McSherry of Electronic Frontier Foundation, Helen Grieco of Common Cause and yours truly, Victoria Kaplan of MoveOn.org, also addressed the crowd. MoveOn.org Political Action, Free Press, Common Cause, CREDO Action, Color of Change, Demand Progress, the Media Alliance, Code Pink, Daily Kos, SumOfUs, Progressives United, ACLU, and the Greenlining Institute supported the action.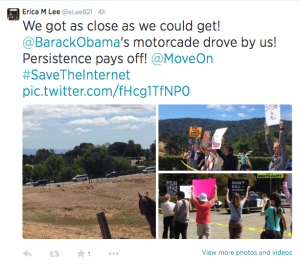 As I'm writing this, Net Neutrality activists in Los Angeles are gathering near the president's next stop—he's scheduled to arrive Wednesday evening for another fundraiser, at the of home Hollywood producer Shonda Rhimes, who is herself a Net Neutrality advocate.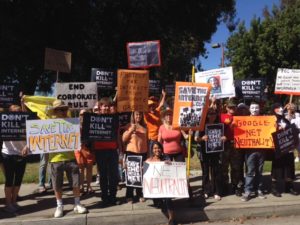 Here's a news round-up. We'll keep adding as we learn more!
NBC Bay Area: Not Everyone in Silicon Valley Happy to See President Obama
NBC Bay Area: President Obama in Bay Area for Fundraiser, Draws Criticism
ABC7 News: President Obama Swings Through Bay Area for Fundraising Trip
ABC7 News: Pres. Obama Greeted by Protests in the Bay Area
KNTV (NBC Bay Area): Morning News Clip
KTVU: President Obama to arrive in Bay Area for fundraiser
The Hill: Obama passes net neutrality protesters on Silicon Valley trip
KCRA3: Morning News Clip
CBS Los Angeles: 'Net Neutrality' Protesters To Remind Obama Of Campaign Pledge
UT San Diego: NorCal Daybook
Palo Alto Online: President arrives in Bay Area for Los Altos Hills event
Cupertino Patch: Activists Plan Los Altos Rally During President Obama's Visit
Menlo Park-Atherton Patch: President Obama Arriving in the South Bay for a Fundraiser
(also in Sonoma Valley Patch, Saratoga Patch, Campbell Patch, Pinole-Hercules Patch, Redwood City-Woodside Patch, Burlingame-Hillsborough Patch, Half Moon Bay Patch, Pacific Patch, Lakspur-Corte Madera Patch, Petaluma Patch, San Bruno Patch, Los Altos Patch)
San Jose Mercury News: Obama in Bay Area for two fundraisers; Republicans criticize trip
San Jose Mercury News: Obama, in town to pass the collection plate, touts accomplishments
(same story also in Inside Bay Area)
Los Angeles Times: L.A.-bound Obama sticking to fundraising, event schedule amid protests
Silicon Valley Business Journal: Obama, in Silicon Valley to fundraise, attracts Net Neutrality protesters
SFGate: 'Don't kill the Internet,' protesters urge Obama in Los Altos