MoveOn Members Endorse Shenna Bellows (D-ME) and Sen. Jeff Merkley (D-OR) in First General Election Endorsements of 2014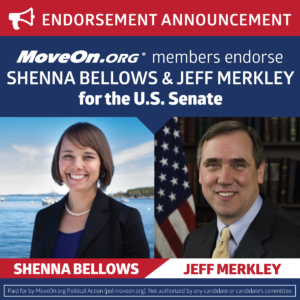 In the group's first general election endorsements of 2014, MoveOn.org Political Action announced today that MoveOn members in Oregon and Maine have voted decisively to endorse progressive champions Shenna Bellows for Senate in Maine and Senator Jeff Merkley for reelection in Oregon.
"The resounding votes in both states confirm that Senator Jeff Merkley and Shenna Bellows are the clear choices of progressive voters in Oregon and Maine," said Ilya Sheyman, executive director of MoveOn.org Political Action. "Both Bellows and Merkley are proven progressive champions, and our country needs their voices standing up to powerful corporate and 1% interests in the Senate. We are excited to mobilize our community of more than 8 million MoveOn members around the country to help them win their campaigns."
In OREGON, MoveOn members voted to endorse Senator Jeff Merkley for re-election. Senator Merkley won 97 percent of the votes cast, far surpassing the organization's threshold for endorsement. MoveOn.org has more than 150,000 members in Oregon. Here's what some of them had to say about Senator Merkley:
"Jeff led a successful effort to roll back a portion of the filibuster blockade, the first progress in changing this toxic Senate rule in generations. He wants to bring every one of our troops home from Afghanistan. He has actually challenged Wall Street. He is working inside our dysfunctional political system without compromising his values. We need him in the U.S. Senate."
— Diarmuid M., Ashland, OR

"Jeff Merkley has exceeded the expectations of progressives in Oregon, and in his first term has become one of the very best U.S. senators. We desperately need him in Washington, and I will do as much as I can to make sure he continues standing up for families, working people, and all underrepresented citizens."
— Michael M., Portland, OR
In MAINE, MoveOn members voted to endorse progressive champion and former ACLU of Maine executive director Shenna Bellows for Senate in 2014, to challenge incumbent Sen. Susan Collins (R-ME). Shenna won 89 percent of the votes cast, far surpassing the organization's threshold for endorsement. MoveOn.org has more than 50,000 members in Maine.
Here's what some of them had to say:
"Shenna Bellows is a candidate of Elizabeth Warren caliber. She actively pursued justice and equality in her job for the Maine ACLU branch, and has the values, skills, and determination to make a difference in Washington for us all!"
— Willow F., Portland, ME

"Susan Collins used to be a good senator for Maine. She originally promised to serve two terms and bow out, but she has become part of the problem in Washington by staying too long, and always voting with her party rather than engaging with the opposition. We need a fresh voice in Washington, younger, more in tune with the needs of this time."
— Mary Jane F., South Portland, ME

"Shenna is bringing energy and terrific messages about the ways Senator Collins is letting Maine down in key votes on national security, human rights, spying, torture, President Obama's nominations, the budget, and the most important vote she might cast — for Mitch McConnell's leadership of the Senate."
— Christopher S., Brunswick, ME
MoveOn members' endorsement has proved potent in recent races. In the 2012 Massachusetts Senate race, MoveOn.org Political Action bundled more than $1 million in small contributions to Elizabeth Warren's campaign, and nearly a thousand MoveOn members in Massachusetts turned out to volunteer on Warren's behalf. In the past two years, MoveOn.org has successfully supported progressive candidates including Sens. Mazie Hirono, Sherrod Brown, Tammy Baldwin, and Chris Murphy in their general election races.