Louisiana Threatens Legal Action to Suppress Billboard Criticizing Gov. Jindal on Medicaid Expansion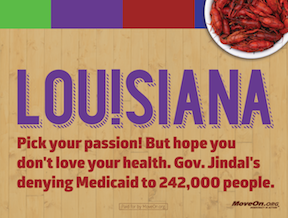 BATON ROUGE — MoveOn.org's lawyers received a cease-and-desist letter from state of Louisiana officials today, one day after the state's Republican lieutenant governor told the Baton Rouge Advocate that the state would pursue legal action to try to take down a billboard criticizing Governor Bobby Jindal.
According to Lt. Governor Jay Dardenne, the state is demanding that MoveOn.org Civic Action take down a billboard that criticizes Governor Jindal for preventing 242,000 of the state's residents from accessing Medicaid. The billboard plays off of Louisiana's tourism marketing campaign to make its point.
MoveOn Communications Director Nick Berning had the following response:
MoveOn will not back down in the face of baseless legal threats. If Republican officials don't want to be criticized for keeping hundreds of thousands of Louisianans from accessing Medicaid, there's a simple solution — they should stop preventing Louisianans from accessing Medicaid.

Neither Governor Jindal nor Lt. Governor Dardenne will silence MoveOn members. This billboard is protected by the First Amendment's guarantee of freedom of speech. Instead of wasting our time and theirs with a pathetic attempt to suppress criticism of the state government, state officials should focus on helping nearly 245,000 Louisianans access Medicaid. If he is truly concerned about Louisiana's image, Lt. Gov Dardenne's time should be spent getting people health care, not trying to take down a billboard.
VIEW THE BILLBOARD HERE: http://front.moveon.org/wp-content/uploads/2014/02/022514_MoveOn_Billboard_LA_Final_COMP.png
A poll by the Joint Center for Political and Economic Studies found that 62.6 percent of Louisianans support Medicaid expansion, while only 30.8 percent oppose it.
VIEW THE POLL HERE: http://www.jointcenter.org/sites/default/files/upload/research/files/The%20Deep%20South%20and%20Medicaid%20Expansion.pdf
VIEW THE ADVOCATE STORY IN WHICH LT. GOV. DARDENNE THREATENS LEGAL ACTION HERE:
http://theadvocate.com/home/8551853-125/dardenne-disputes-ad