MoveOn Careers

Want to empower millions of Americans to stand up for the progressive values that matter most?
Come be a part of the MoveOn team!
Why MoveOn | Our Benefits | Our Remote Work | Who We Are | Current Openings
---
Why MoveOn?
For over 20 years, MoveOn has been making waves across the country, fighting for the progressive values that matter most–even when no one else would. Now we're looking for superstars to join our team and help us build a movement that pushes the new administration to take bold action for an inclusive and progressive future.
We'll also continue running a powerful open platform that empowers our members to fight for the issues that matter most to them, stand in solidarity with Americans across the country in the movement for Black lives, break ground with new organizing strategies and technology, and much more. In short: we're going big to respond to the greatest challenge we've ever faced, and we need the best people around to help us do it.
Our Benefits
Competitive Salary
We commit to equity in our compensation philosophy and practices. We are committed to equal pay for equal work.
Full Healthcare Benefits
As an organization that fought tirelessly to support President Obama's Affordable Care Act, you might expect us to have world-class healthcare benefits for our staff–and we do. We cover full medical, dental, and vision care costs for employees and their children, as well as partial coverage for spouses and domestic partners.
401K benefits
MoveOn offers 401(k) retirement benefits with employer contribution.
Generous Vacation Policy
We work hard and fight for important causes, but we also realize the need to take time to recharge. That's why we offer four weeks of paid vacation per year, 10 sick days, 6 flexible holidays, and 8 all-staff holidays, on top of the flexible schedule that comes with working in a virtual office.
Paid Family & Paid Parental Leave
As a vocal supporter of paid family leave, MoveOn recognizes the importance of family bonding and offers generous paid time off for parents as their families expand. We want you to take the time you need to be a parent and offer 18 weeks paid full-time off (for birth, adoption, and foster care placement) plus 4 weeks of 4-day weeks upon return. We also offer paid family medical leave.
Home Office & Wellness Benefits
We provide a cell phone and internet stipend, a monthly home office subsidy, and everything you need to set up your home office, including a laptop, desk, and more. Additionally, we provide all our staff with paid health and wellness benefits and encourage them to take time away from their desks to stay healthy.

Our Remote Work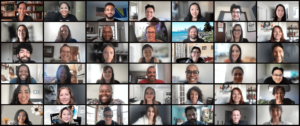 MoveOn staff live all around the country. This is not an accident. It started as an experiment in the "virtual office," and it has proven an important part of our success.
We don't care where in the country you work; we care about the work you're doing. We equip you with everything you need for your home office or coworking space, while also empowering you to take time away from the office to find a coffee shop or other location for your work to thrive from.
Being in a virtual office means that we hire the best person for the job, no matter where they live.

Who We Are
We are a vibrant online community of millions of people throughout the country empowered to do our part to create a world where we all can thrive.
We are a membership organization, which means we are only as strong as our members. We have a deep commitment to member listening and respecting the voices and perspectives of our members and their individual humanity. We know as staff we may not always agree with member sentiment and while staff we also have a responsibility to educate and move public opinion, so we try not to get too far out ahead of our members, in order to meet them where they are as we seek to move the dial together.
We are a community of millions of individuals of different ages, genders, races, ethnicities, sexual orientations, socioeconomic classes, immigration statuses, abilities, stories, and politics spread throughout every corner of this country. We come together because we don't accept the imperfections of the world as it is, and we fight to create the world we want to see. We are not a monolith, and we don't necessarily know each other, but we join together to fight for one another and in solidarity with those with less privilege than ourselves.
We are a political home. No matter where you live, you can find people who will fight for you here. We are all welcome, we all belong, and we take care of one another. We foster a space where we listen to, learn from, and grow with one another. We come together inspired by our shared sense of higher purpose and our commitment to humanity.
We are a grand experiment in living the vision we work to advance out in the world: a vision of a society that embraces multiracial populism, racial justice, and equity. We join together across identities and bring our respective causes to this space so that we can leverage our collective power to benefit us all.