You Need To See What This Iraqi Woman Wrote On This Sign
Read this. Then encourage someone in your life to become a Conscientious Objector.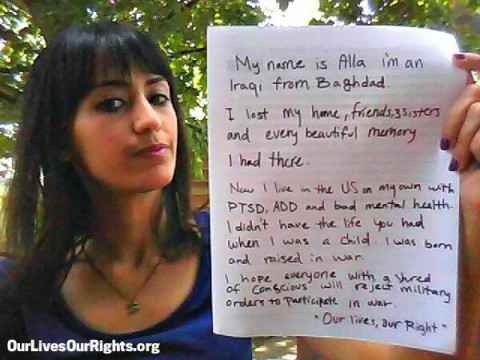 Her sign reads: My name is Alla. I'm an Iraqi from Baghdad. I lost my home, friends, 3 sisters, and every beautiful memory I had there. Now I live in the U.S. on my own with PTSD, ADD and bad mental health. I didn't have the life you had when I was a child. I was born and raised in war. I hope everyone with a shred of conscious [sic] will reject military orders to participate in war.
(For more information about the "Our Lives, Our Rights" campaign, which aims to educate active-duty troops about their right to refuse deployment overseas, visit their website.)
Found on the Facebook page of Being Matsu. Originally submitted by volunteer editor Laura S.