World's Biggest Coal Company Offers Free Inhalers To Kids
Have you heard of Peabody Energy's new site, CoalCares.org? Finally, the world's largest private-sector coal energy firm is stepping up to America's environmental problems, caused in part by them, and offering every kid a free inhaler.
Wait—what?
Okay, it's actually the YesMen's latest prank. Here's a snippet from the accompanying press release, published by the PRNewswire:
Peabody Energy today announced the creation of an innovative new public health initiative designed to combat the stigma of asthma among American children ages 0-18. With Coal Cares™ (www.coalcares.org), Peabody will offer free, custom-branded inhaler actuators to children living within 200 miles of a coal plant, along with coupons worth $10 towards the purchase of the asthma medication itself.
Why look, it's Batman, Dora the Explorer, and the Biebs!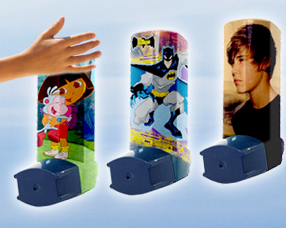 After all, they are the new must-have child accessory of the season:
"By re-branding the inhaler as a cool, individualized, must-have accessory, Coal Cares™ will empower children to tell bullies: 'suck it up.'" Children can choose from a variety of youth-themed inhaler cases, from tween faves like "the Bieber" and "My Little Pony," to the "Emo" and "Diamond" inhalers for older, style-conscious youth. There's even "My First Inhaler," for tots.
Originally submitted by volunteer editor Kitty O. Found on HuffPost and Coal Cares.