Why Folgers Is Not the Best Part of Waking Up
The best part of waking up isn't Folgers, once you realize Folgers' coffee bean roaster, Maximus Coffee, just tried to cut employees' pay in half. (Maximus also provides beans to Maxwell House, Nestle Coffee Products, and more.) In addition to dramatically cutting worker pay, Maximus wanted to double healthcare premiums, cut its 401k contributions, and get rid of overtime pay. According to reporter Michael Schwartz, "[Plant owner Carlos De] Aldecoa's goal is not just to cut pay, but to demoralize and ultimately break the union."
So on October 10, some 90% of the 250 workers at Maximus' Houston facility went on strike. They picketed for nearly a month before making an offer to end the strike, returning to work in early November. Their struggle caught the attention of Pat Thompson, a Houston-based psychologist, labor activist, and cancer survivor. Thompson started a MoveOn petition supporting Maximus workers and urging a boycott of its coffee products until a fair labor agreement has been reached.
"It's very important for working people to earn a living wage and have decent benefits," Thompson told MoveOn. "Across the country, workers' wages and benefits are being slashed," he says. "We seem to be engaged in a race to the bottom. Unless people stand up and fight for their interests and their rights, the bosses are going to have their way." He's walked the talk, from fighting wage theft and supporting labor action, to championing progressive political candidates in Houston and supporting immigrants' rights.
After learning about the Maximus boycott, Thompson "went down to offer my support and talk with some of them," he says, which gave him the idea to pressure higher-ups to negotiate fairly. Even though workers have returned to work, "They're still in contract negotiations, so it's important to keep the petition going until they reach a fair agreement," he explains.
After signing the petition, what can people do? "Call the plant and ask to speak to the president and leave a message supporting the workers," Thompson says. "[People] can also leave a message that they don't intend to buy any more Maximus products until they reach an equitable, fair agreement."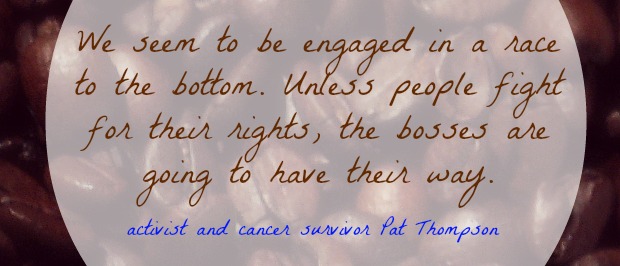 In addition to hopefully helping Maximus employees get fairly compensated, Thompson says being involved has helped him as he recovers from cancer. He was diagnosed with oral cancer in August 2012 and underwent surgery, radiation, and chemotherapy a year ago.
"I am a cancer survivor now and am still recovering from the treatment, which was extremely harsh," Thompson says. "This effort to support the Maximus workers has helped me with my recovery in that it has helped me know that people can survive and prevail in very adverse circumstances. Also, contributing to the effort to defend working people gives me a wonderful feeling, and that helps immensely with my recovery."
He encourages anyone interested in activism to get involved. "It has a very good impact, and it leaves you with a good feeling — or at least it leaves me with a very good feeling — that I've participated in a struggle and contributed to the well-being of a large group of people."
Thanks for your activism, Pat! Sign his petition here.