Thousands rally in Austin to support Sen. Wendy Davis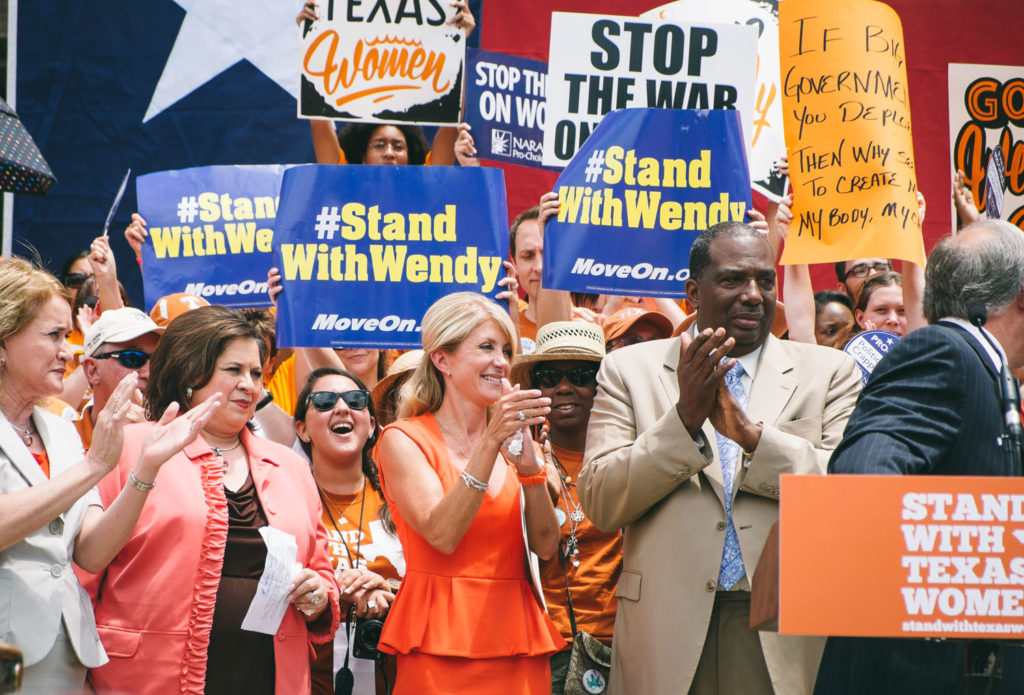 On July 1st, almost 10,000 Texans from all backgrounds rallied at the state Capitol in Austin to say they've had enough of the Republican war on women. And MoveOn members from across the state showed up in force!
One thing is clear after Sen. Wendy Davis' heroic filibuster last week: Texans are done putting up with Republicans making health decisions for Texas women.
Here's a quick recap of what's happened in the last week, and where we can go from here:
Last Tuesday, as Sen. Davis was filibustering a radical bill that would have shut down all but a handful of women's health clinics in Texas1, more than 15,000 MoveOn members signed a petition started by local leader Stephanie Hamm in support and added thousands of comments and stories.
After a stunning midnight defeat of the bill, Texas Gov. Rick Perry immediately called another 30-day special session to try again to ram through this radical assault on women. More than 750 MoveOn members turned out yesterday in the largest demonstration for women's rights in Texas history.
The Texas Legislature will be on recess until Tuesday, July 9, at which point they are expected to quickly vote and again try to block access to reproductive health for millions of Texas women—but now there's a fired-up progressive movement in Texas working to stop them.
So we have just over a week to raise our voices and let Texas Gov. Rick Perry know that this assault on women is unacceptable. We're working with a broad coalition of organizations including Planned Parenthood, NARAL, and Ultraviolet. Will you speak out today by submitting a letter to the editor of your local paper?
Click here to submit your letter.
Legislators on both sides will be in their home districts this week for the Fourth of July holiday, making it a perfect time to submit a letter to the editor. And speaking out makes a real difference. Here's how Sen. Wendy Davis put it in her remarks to the crowd yesterday: 
It was your voices—lent to me—that made it possible for me to stand those 13 hours.
If you're outraged about this war on women's health, then write your letter today. Together we can make sure that every legislator in Texas reads about it while they're home this week—and thinks twice about their vote.