The Worst Part of the Immigration "System"
It's like political background noise: Every time politicians debate immigration reform, someone starts banging on the table, saying we have to "secure the border."
But in our latest podcast, we've got the inside story on what that can really mean—the story of a hard-boiled investigative reporter who exposed a brutal killing by Border Patrol agents. His story sent shock waves across the country and won a string of awards. Now, he tells us how it came about.
Once you hear his tale, you'll never think about the "border security" debate in the same way again.
Listen to this incredible story now: Click here to open "The Good Fight," the MoveOn-powered podcast about people changing the world, on iTunes.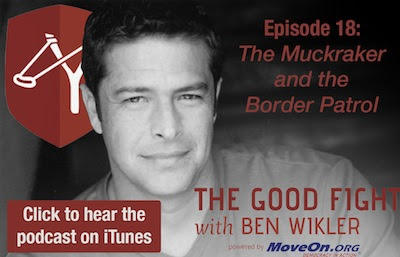 If you like it, be sure to subscribe and post a review! You can also listen on our website, via the Stitcher app for Android or iOS, or via RSS.
We interviewed Frey just after he won the Izzy Award, a prize for independent journalists reporting in the tradition of the great maverick reporter I.F. Stone. Frey's stories about Border Patrol violence, which aired on PBS, marked a turning point in Border Patrol accountability. After they aired, nobody could deny the need for oversight of the giant and growing police force that guards the southern edge of the country.
And the story behind the story, which Frey tells on this podcast, is as fascinating as what his reporting revealed. You can hear the resolve in his voice as he explains what happened. You'll hear his reaction to politicians who use fear of immigrants to gin up votes as he shares his perspective as a native son of the border who's seen a little too much reality to buy cheap rhetoric.

Click here to listen to this podcast on iTunes. And if you like it, you might want to subscribe.
Or you can listen on the "Good Fight" website …. and share it on Facebook.
It's a story that will stay with you.