The Happiest Gay Marriage Photo You Will Ever See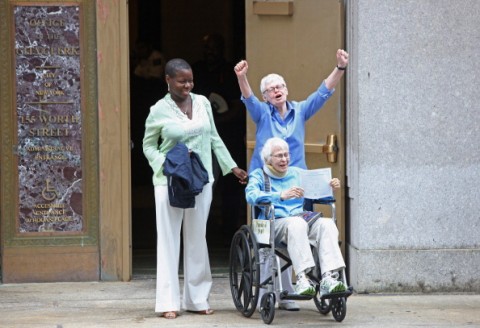 Phyllis Siegel, standing at right, and Connie Kopelov, seated, celebrate after becoming the first couple to marry at the Manhattan City Clerk's office in New York, U.S., on Sunday, July 24, 2011. Gay marriages became legal in New York today, the sixth and most populous U.S. state to grant same-sex couples the right to wed, a move championed by Governor Andrew Cuomo and approved by the Legislature in Albany on June 24. Photographer: Jin Lee/Bloomberg via Getty Images.
Together 23 years, Siegel commented on the experience: "It was just so amazing. I lost my breath and a few tears."
Found on Getty Images. Originally submitted by Alicia E.